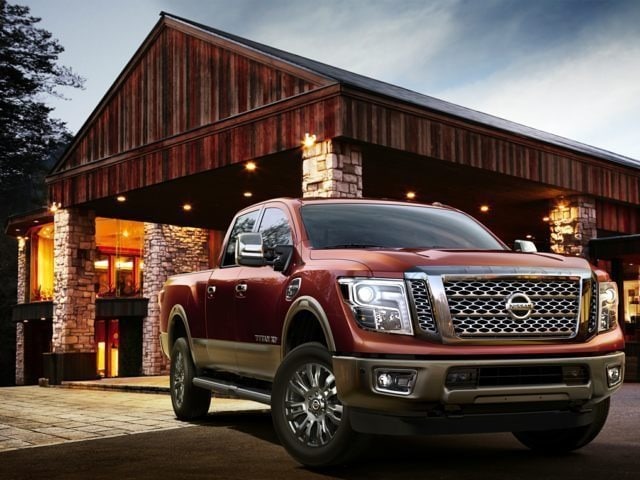 The 2016 Nissan Titan XD: Not Your Average Truck
The 2016 Nissan Titan XD Platinum Reserve Edition is the dream truck of truck owners in America. Before I get started, if you haven't seen the one at our location in Dothan, you need to come by and take a drive. You won't regret it.

The Nissan Titan has established itself as a leader among its competitors in the truck line. There are options, but when it comes to toughness, comfort, practicality, technology, and reliability. Did I mention safety? Let's take a quick look at the 2016 Nissan Titan XD Platinum Reserve Edition, from The Driver's Seat at Bondy's Nissan.
With 311 horsepower and 555 pound-feet of torque, over 12,000 of towing capacity, safety features galore, a comfortable interior, Rockford Fosgate speakers and sound; power, good looks, strength, and safety, it is the best of all worlds.
Then there's the issue of interior cabin space. There is plenty of space in the front part of the cabin and the rear seat for your passengers. There is enough room for three adults in the back with comfortable levels of leg room, bags, and other items as needed.
The front cabin area has your standard equipment, roomy leg room and space. Then, add the premium sound, visually appealing interior dash design, nice leather seats, you will feel like royalty. Now, we could stop right there and have everything you could dream of in a truck. Nissan didn't stop there.
There are many safety features that come with the Platinum Reserve Edition trim level of the Nissan Titan XD. For one, the airbags, the backup and parking assist cameras, and the navigation screen are great value additions. One of the issues I have discovered when shopping for vehicles in the past is that they seem to be the same, across the board.
The 2016 Nissan Titan XD is in a class of its own. It has the power, the class, safety features galore, and so much more. It comes loaded with the entertainment features you have always wanted that benefit if you have children or long rides. You will be more than pleased with the amount of power in the Cummings 5.0 V8 Turbodiesel engine, and, the smell of the interior leather, that doesn't fade.
So, here's my final take on the 2016 Nissan Titan XD Platinum Reserve Edition: It is the best buy for any truck. It has everything you need, and everything you want. You can drive it today when you visit our showroom at Bondy's Nissan.
It doesn't matter if you need a truck for the farm, the road, or the family, the 2016 Nissan Titan XD has everything you could imagine.
Want to find out more information about it today? Check out our inventory online at www.BondysNissan.com.